Underwear (bralette), in general, has always been the most neglected. We all have a nice set of lace assigned for some special night, but nothing more. The rest is basic, comfortable, and having nothing to do with each other.
But that has gone down in history since garments such as bralette arrived because it has managed to reinvent the classic bra and find the midpoint between comfort and design t shirts.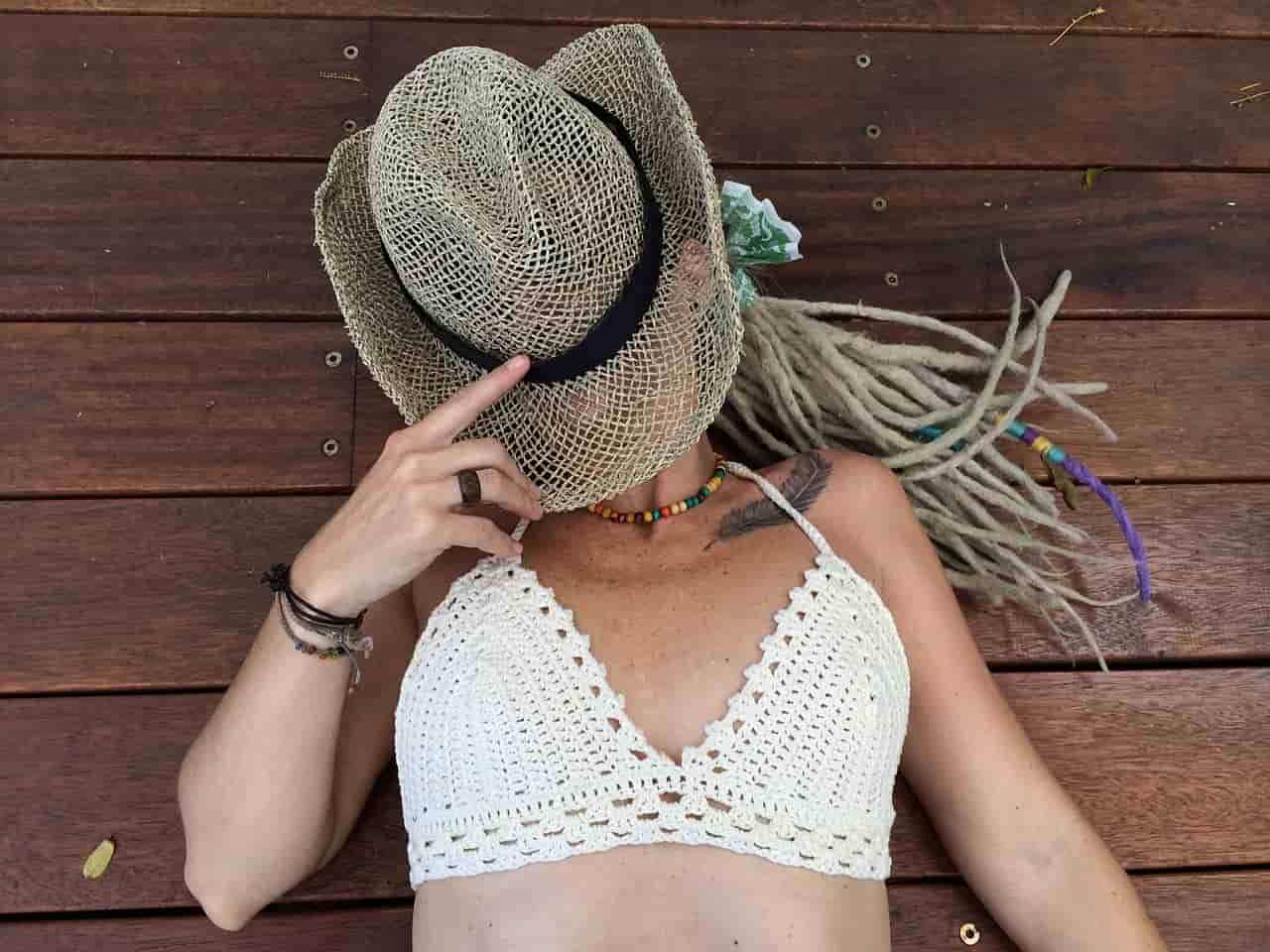 Dare to combine a white blouse with a color bralette. Leaving a couple of buttons unbuttoned, you will see, in a discreet way, your beautiful bralette. You can also wear a black bralette with a transparent blouse at a party or celebration. 
Bet on pastel tones if you're classic and always have a black and white one that never fails. If you are daring, opt for dark shades and strong colors to give a different touch to any of your outfits.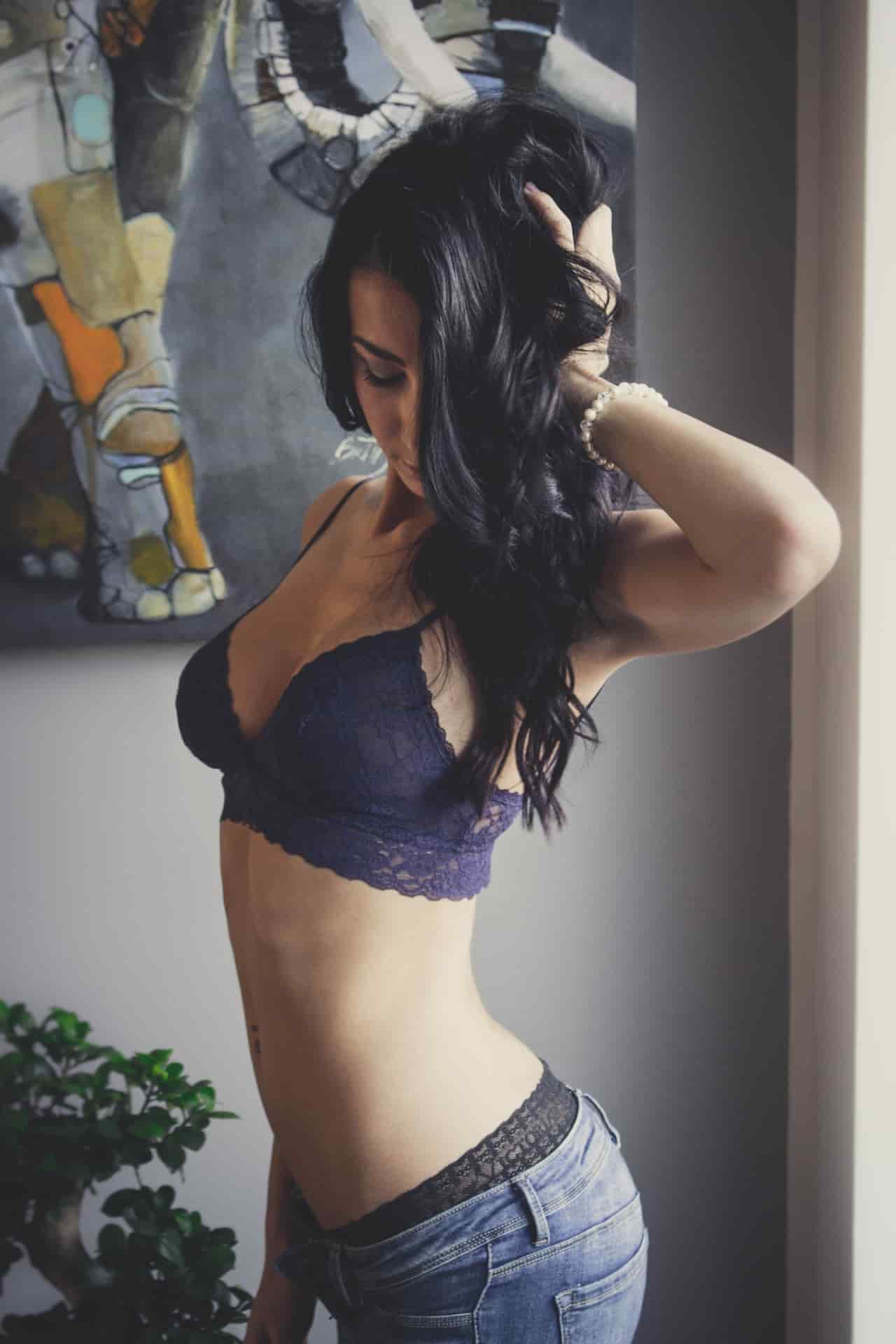 What is a bralette?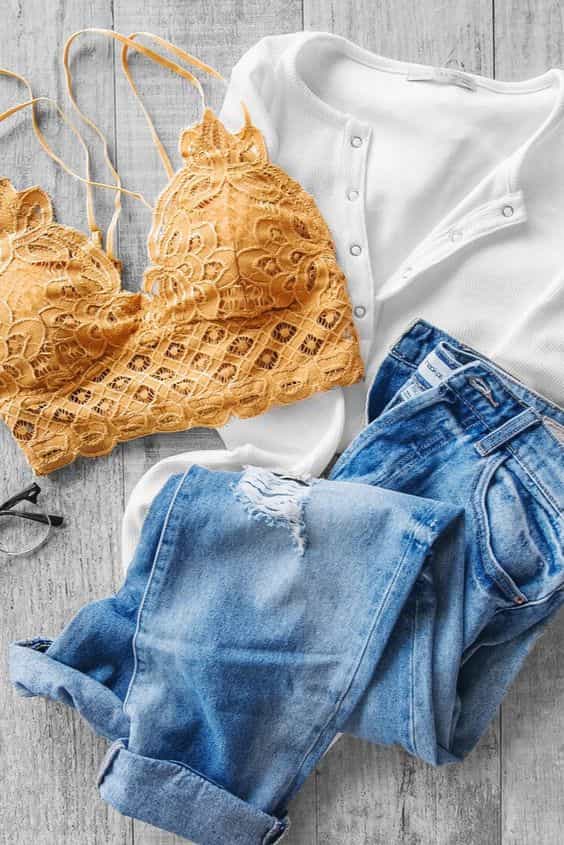 The bralette is a garment of feminine clothing that combines elements of a traditional bra with the shape of a sports top or a crop top. They should be tight to the chest, acting as if it were a normal bra but without rods or fillers. This makes it much more comfortable.
The bralette is a bra that, in addition to fastening, completes a simple look giving a special touch.
It can be worn as underwear or as an outer garment, showing it totally or partially with blouses or open garments. Since they are bras to display, their designs are diverse in both fabrics and colors. 
But do not think that it is a fad in recent years, the first bralettes appear in the 40s. But it was from 2010 when they take full prominence, especially since some celebrities will start to show them and their widespread dissemination in social networks.
How to combine a bralette?
This may be the most complicated part. I'm sure you've bought more than one, and now you don't know how to combine it. And there they are in the drawer waiting for their opportunity because you think it is not a garment for each day, or at least you can not find how to carry it.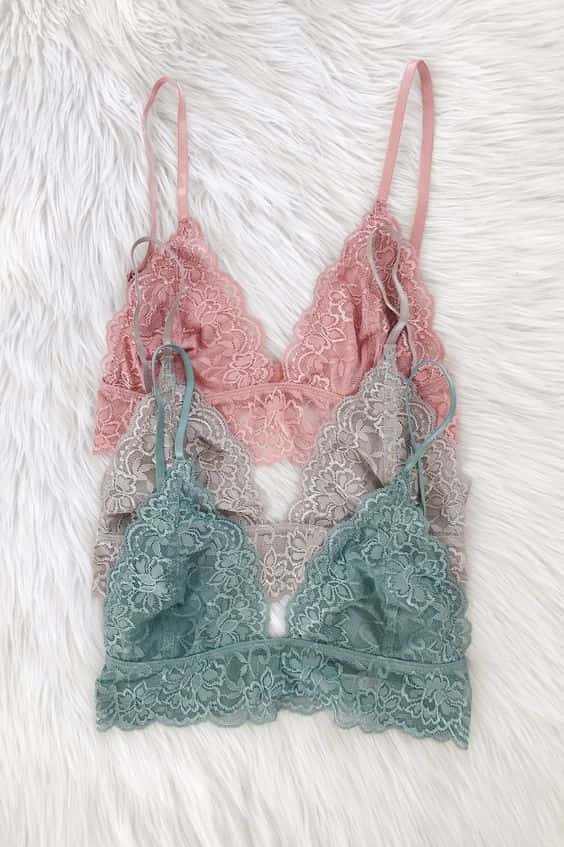 The truth is that, besides being beautiful, some women may find it too daring to wear it as a top. And I'm sure you've also seen a thousand ways to combine it on Pinterest but then you don't feel comfortable wearing it like that.
Well, you've reached the right place. From today, you will see that it can be a most versatile garment, and you will be able to use it every day.
And of course, there are ways to take it to show it whole and more discreet ways of wearing it.
With shirt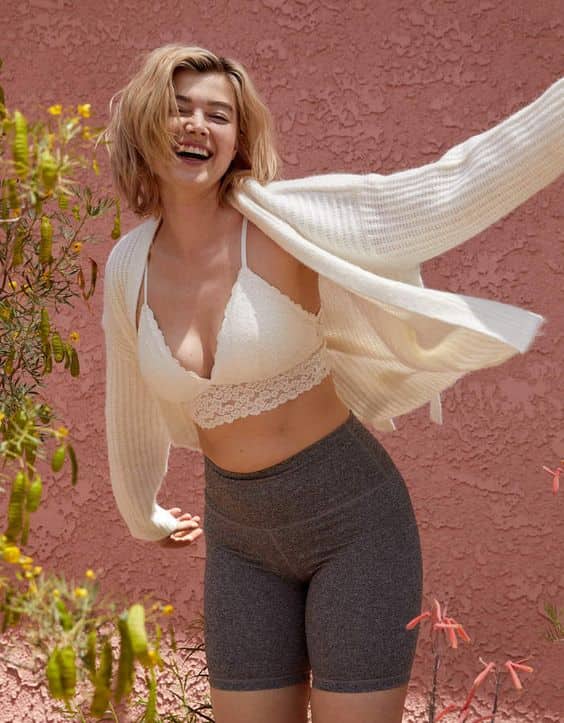 It is one of the most viewed and least daring options. You can wear it with normal shirts for your day to day, or with transparent shirts to go out at night. Everything will depend on the moment.
With white shirt
The white shirt never fails, and the combination with a bralette is perfect for a thousand and one moments.
It can be your outfit to go to the office and your outfit to go out to dinner. You can wear it knotted at the waist, with a pair of open buttons, or with a blazer on top. Unleash your imagination, and you will have a thousand options to combine both garments.
With back neckline
If you are one of those who do not like to teach too much, this is your best option. Look for a blouse, shirt, or dress with a bareback. It is the best way to wear a bralette and forget about those typical bras that we do not like to look.
On t-shirt
This way of taking them became very popular since Kendall Jenner implanted it. It is equally sexy but has that modern and different point.
With bibs
Joining 2 trends is always a sure success, and nothing better to achieve an urban and casual look than a Texan bib, or with any other print, than with a crop top bralette.
With blazer
Perfect for a special dinner, a celebration, or a party night. It looks elegant, feminine, and sexy.
With jersey
In winter, you can also wear them under a sweater with a pronounced v-neck or one with a dropped shoulder. It is certainly a sensual way to wear it.
With wide shirts and blouses
Some many shirts and blouses have a very large chest, back, or side area. Or t-shirts that we bought a larger pair of sizes for certain looks. Well, with those garments, they also look great because they give you a very current casual roll.
If you still don't see it clearly, start with something simple. Combining a black bralette is easy and not as obvious because they tend to be more discreet. Wear it with a V-neck sweater or with a dropped shoulder shirt, you will lose that modesty to teach them in addition to giving it a new, and special, touch your looks.
But do not think that there is the thing, the body is another garment that has leaped abroad, and the truth is not for less. Some, such as lingerie bodysuits, are authentic jewels that are sad that they are not seen.
You can combine them with high-waisted jeans and blazer, or with a shirt or dress that has transparencies. It can be the perfect garment for romantic dinners. Or you can go one step further and combine them with leather skirts or cowgirls, and you will be ready to party.
Like bralettes, they can be the star even in winter combined with maxi jerseys. The case is to innovate and, of course, try everything you have in the closet.
And if you go further? Would you dare to go out in the street with pajamas or a picardy? It's not that weird. Jumping from bed to street with pajamas on was a couple of seasons ago.
Gigi Hadid, and Karlie Kloss, among many others, already showed us that going out in pajamas to the coolest nightclub in the city as possible. And today is a trend that is still seen in cities like Paris, and if Paris says so, we will end all, oddly enough, at least trying some night out of curiosity.
Jokes aside, or trends apart, the same goes for the bralette. That of wearing old pants with a boy's shirt has been left behind because every time the pajamas are more beautiful, more sensual, and more elegant.
It is curious as a garment that nobody sees has more and more glamor. And I am convinced that you would love to show your pajamas and mischief to everyone, although if you do not dare to walk them down the street, always the USSR.
Take out your sexiest side and give the importance that your underwear deserves.
I hope this post has helped you lose your modesty to wear a garment as feminine as a bralette.
Other Helpful Resources: