Okay, so you have decided to get an aesthetically pleasing smile. Now, you must choose which type of veneers you want for your teeth. There are two types of veneers: composite veneers and porcelain veneers.
These two are the most commonly used materials in the veneer fabrication process. Both of them can gorgeously transform your smile in the hands of a seasoned dentist. But how will you choose the right type?
This depends on your needs and other important factors like cost, treatment time, etc. So, evaluate composite and porcelain veneers and then schedule a dental veneer consultation with your Bella Vista dentist.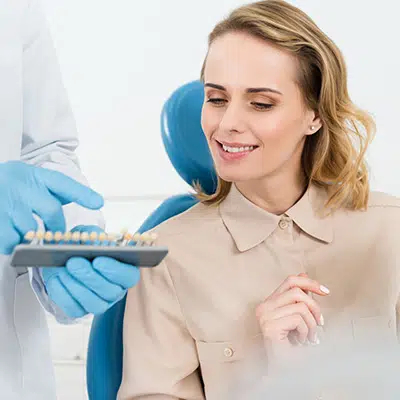 But before that, let's see some fun facts about dental veneers.
Fun Trivia about Dental Veneers
Dental veneers were invented in 1928 by Dr Charles Pincus in California, who created them mainly for Hollywood stars.
Until 1959, dental veneers were a temporary solution. But Dr Micheal Buonocore changed that by inventing the etching technique. However, these veneers provided rough surfaces.
So, in 1982, J.R. Calamia and R.J. Simonsen combined Dr Pincus's and Dr Micheal's methods to craft smoother and more permanently bonded veneers.
Various celebrities like Miley Cyrus, Hillary Duff, Tom Cruise, Nicolas Cage, Jim Carrey, Celine Dion, Zac Efron, and Chris Rock use dental veneers.
Pros of Composite Veneers
Composite veneers possess several advantages over their counterpart. However, cost is the chief reason behind their popularity. On average, porcelain veneers cost double, which is a big no-no for some people.
Additionally, insurance does not cover most treatments, meaning you will likely pay this money out of your pocket. The cost of veneers will be based on various factors, but on average, getting composite veneers in Australia will cost you between $250 and $1,500 per tooth.
Another benefit of composite veneers is that they can typically be crafted while you wait, making it a same-day treatment. Direct composite veneers or composite bonding are fabricated on your teeth immediately.
The tooth-colored resin is applied to teeth directly, where it can be shaped and sculpted by your dentist. The resin will then be hardened using high-intensity light. If desired, another resin layer can be applied and shaped as required to fetch the desired outcome.
Hence, this process is less invasive and much quicker than getting porcelain.
However, composite veneers' most significant advantage over porcelain veneers is their reversibility. Porcelain veneers require resculpting of your natural teeth to fit the veneer. But that is not the case with the composites, as minimal prep work on your natural teeth is enough.
This means that your natural teeth will not be permanently altered to such an extent that the material won't be possible to remove and replace as needed.
Benefits of Porcelain Veneers
Although composite veneers have several advantages, porcelain veneers will always win when it comes to durability. Porcelain is said to be a far more robust material compared to composite resin. Plus, well-maintained porcelain veneers can last up to a decade or two compared to the seven-year average lifespan of composite veneers!
Hence, it is one of the factors that you need to keep in mind while contacting your dentist Kawana for veneer installation. Remember that composite may cost half as much as porcelain but will only last half as long.
Another benefit of porcelain veneers is that they offer the most natural, tooth-like aesthetics. This material has a translucent quality, which is very similar to tooth enamel. Plus, porcelain is highly resistant to staining and chipping due to its strength and glaze applied after the treatment.
On the other hand, composite ones are more porous and prone to staining, meaning that you may have to adjust your diet to prevent stains. That is not the case with porcelain veneers.
The porcelain veneer procedure often requires temporaries to be worn while your veneers are fabricated in a lab. However, the latest technological advancement has prompted dentists to embrace chairside CAD/CAM technologies to speed up the process by allowing on-site fabrication.
Lastly, porcelain veneers can offer a trustworthy solution for worn enamel, wear and tear, genetic defects, uneven teeth, etc. That may not be the case with composite, as it is not as effective as porcelain in severe cases.
For instance, significant discoloration or spacing issues may not be adequately solved with composite veneers, making porcelain your only option. Before providing you with the veneer service, your dentist will conduct a thorough oral checkup as part of your consultation to determine your best option.
The Verdict
The only way to decide whether to get composite or porcelain veneers will depend on your aesthetic goals and weigh on your personal choices. If you want a pocket-friendly solution, composite will be best for you. However, if you wish to mask severe aesthetic problems with your smile, then porcelain veneers should be your choice.