A well-equipped first aid kit could prove to be the difference between life and death in medical emergencies. Every household needs to have a basic kit stocked with proper first aid supplies for such emergencies.
These kits can help you treat injuries until help arrives. The purpose of first aid treatment is to alleviate pain, stop the bleeding and prevent infection. You do not know when an accident can happen, so it is best always to be prepared for it to the best possible extent. Time is of the essence when dealing with an accident or a severe injury, and acting immediately can save someone's life.
If someone in your family has asthma, diabetes, or severe allergies, you must keep those specific medications in your emergency kit. In case of emergencies like seizures or attacks, you can administer such specific medicine to them.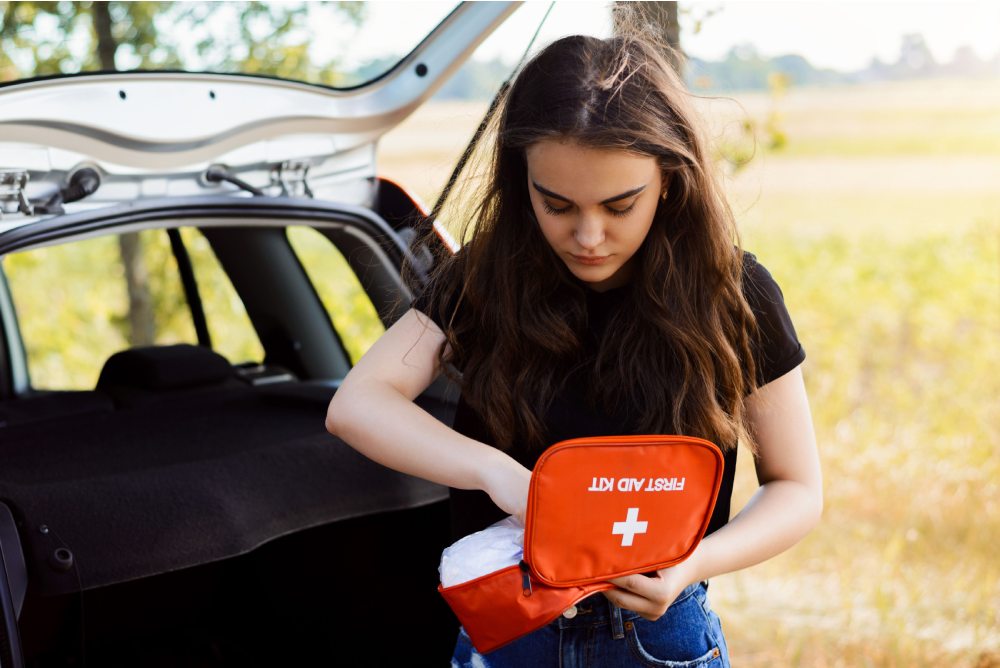 Keeping a fully equipped first aid kit is half a win; stocking it with proper medicines is the next part. So, carefully consider what your needs are and reserve your emergency kit accordingly. If you have children at home, it is best to keep ice packs, bandages, band-aids, gauzes, and antiseptic wipes in your kit.
However, a first aid kit is not the cure or treatment for any disease or injury. It is only to buy some extra time and prevent the damage from getting worse. In case of any critical injury or illness, one should always seek help from a professional.
Here are some of the quintessential items that you must keep in your first-aid kit.
An Antiseptic
You must have an antiseptic to clean any wound thoroughly to prevent any infection on the wound. You can either keep the antiseptic wipes, liquid, or even both.
Adhesive Bandage
To treat the minor cuts and scrapes, it is best to apply a waterproof band-aid. They help you to stop the bleeding and prevent any dust from creeping into the cut. You can even keep some printed ones for the kids.
Gauze dressings
These are used for larger wounds. Gauzes come in handy to stop the bleeding. You can wrap these around an injury after applying antiseptics and ointments.
Crepe Bandages
Crepe Bandages are the best to use for any sprains. So, to treat ankle sprains or wrist sprains, crepe bandages work like magic.
Safety Pins
Safety pins are helpful to secure and fasten the crepe bandages. They ensure that the two ends of the bandage are intact for a better fit.
Tweezers
Do not use the bathroom tweezers for any medical emergency; keep a separate pair of tweezers in your kit to fish out any splinter. If you try to take the tiny shards out using your hands, it could cause a burning sensation, and leaving a splinter in the wound may cause an infection. So, tweezers are the best option to deal with any splinters.
Scissors
Keep a pair of baby-proof scissors to cut the gauze bandages.
Cotton Swabs
They come in handy to apply any ointment to the injuries, as using hands to apply anything on the wound may cause an infection.
A Thermometer
Keep a digital thermometer in the first aid kit at all times to measure temperatures accurately.
Pain killers
Keep a small dose of painkillers in your kit to get rid of any backaches, headaches, or other pain caused by an injury. Ensure that you keep a small dose of less potent pain killers and replace fresh ones after checking their expiry date.
Pain relievers and gels
Such sprays and gels can help alleviate backaches, neck pain, sprains, or other muscle pain.
Heating Pads
It is best to use a hot water bottle to alleviate any minor muscle pain. You can even buy a digital pad filled with gel, and you only need to plug it in to heat it.
Gel for toothaches
Toothaches are common if you have children at home. So, keep a gel handy for dealing with toothaches until you make it to the dentist. Moreover, teenagers and adults alike often have mouth ulcers, and gels can help treat them.
Pads and Tampons
If you are out of pads or tampons, you can quickly grab one from the kit.
Other specific medications
If a member of your family has any specific ailment, it is best to keep a stock of their emergency medicines in your first-aid supplies. So, during a medical emergency, you can administer their specific medications until the help arrives. For instance, if someone has diabetes in the house, you must keep insulin in a cold box in the first-aid kit.
When you have set up the kit, keep a check on it from time to time to ensure that you refill the stocks or replace any items that have passed their expiration date.
Other Useful Resources:
4 Important Health Tips for Aspiring Nurses